Founded in 1960, Four Seasons continues to define the future of luxury hospitality with extraordinary imagination, unwavering commitment to the highest standards of quality, and the most genuine and customized service.
Currently operating 95 hotels and residences in major city centres and resort destinations in 40 countries, and with more than 60 projects in development, Four Seasons consistently ranks among the world's best hotels and most prestigious brands in reader polls, traveller reviews and industry awards.
Extraordinary Experiences
Explore our new collection of experiences with exclusive access to the world's most captivating people and places.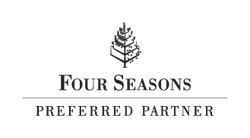 For more information on booking your next Four Seasons Extraordinary Experience, please
Contact your Kathleen Stahl Travel Advisor.
When you book Four Seasons through Kathleen Stahl Travel, you will enjoy Four Seasons Preferred Partner benefits. Your travel advisor will be pleased to give you more details.
Sign Up!
Receive special offers and discounts via email!